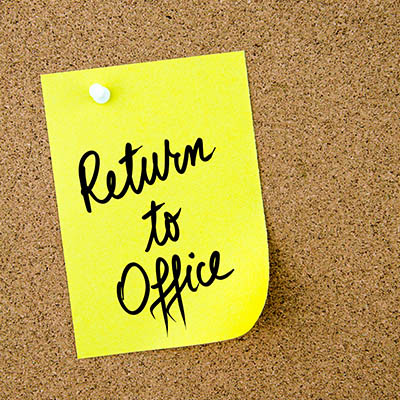 Let me ask you a question: if you haven't already gone back to the office full-time, are you looking forward to the opportunity? Research has shown that your answer probably depends quite strongly on whether you are the boss or the employee. Let's explore this phenomenon.
Executives Want Back to the Office About Three Times as Much as Their Employees Do
This statement—based on research conducted by surveying 10,000 knowledge workers across Australia, France, Germany, Japan, the United Kingdom, and the United States—is just the tip of the iceberg. Looking into the numbers, 76 percent of employees indicated that they didn't want to return to full-time office hours. The executives included in the survey held the opposite opinion, as 68 percent want in-office work to once again become the norm. 59 percent of bosses indicated that they plan to pull employees in for at least the majority of the workweek.
For context, another survey reported that 62 percent of US employees will be returning to the office at least some of the time… 34 percent being displeased with this fact. What's more, a not insignificant 17 percent of workers are at least likely to seek out alternative employment should they be forced to come back into the office.
What Employees Really Want
According to the first set of research we've cited, workers want to see some increased flexibility in where (and when) they work… at rates of 76 percent and 93 percent, respectively.
This is for a variety of reasons. In addition to understandable health considerations, there are other life concerns that working from home can help alleviate. Child care costs are more or less eliminated, in terms of supervision, and the hassle and expenses associated with the daily commute are gone as well. There are a lot of ways that working from home helps the worker save money.
Plus, there are the obvious personal benefits to consider as well. Less time spent either at the office or commuting to and from work means that there is more time left to be spent with family or on personal endeavors. Not many people are expected to happily give these things up.
What Can an Employer Do?
One option: give all employees raises for returning to the office, as this will help offset the costs that working from home helped alleviate. Of course, not every company is in the position to do that, so there are alternative options that an employer can adopt.
For instance, instead of making the black-and-white choice of in-house or remote operations, modern businesses can adopt a hybrid strategy. By enabling employees to work from home so many days out of each week, you can confirm your employees are engaged while also allowing them to choose the work pattern that works best for them. This is the approach that many major companies are taking, and it is one that the right technology can make very accessible. We can help you put the needed infrastructure and solutions in place to take this more hybridized approach as well. Give us a call at 810.230.9455 today to learn more about what goes into such a strategy.