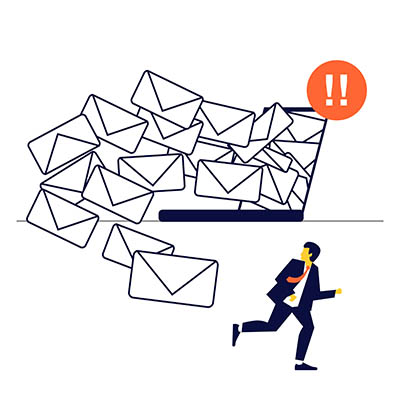 What does your email inbox look like? Do you keep it clean for the most part, or do you let it get out of control because of how many email lists you find yourself on? If you find that you have a lot of trouble with managing your email inbox, well, read on. You'll find some tips for how you can effectively manage and potentially even clean up your inbox!
First, it's important to limit how many emails actually enter your inbox. Here are some ways to do just that.
Send Fewer Emails In General
This one is simple in theory. If you send fewer emails throughout the day, you will receive fewer emails, thereby cutting down on the amount of clutter in your email inbox. By design, email is best utilized as a passive method of outreach rather than an active one, so if you take action to send fewer emails, you should start to see some results, even if they are only small ones initially. As with most things, it takes building a routine to build a habit.
Plus, let's be real here; how often have you sent emails when you could have instead just gotten a more immediate response with a phone call or instant message? While these methods might be reserved for the more pressing issues you face, you might be surprised by how much relying on these other methods of outreach can change your communication dynamic for the better.
Unsubscribe from Email Lists
It's one thing to stay up-to-date on the latest in your industry, but it's another to subscribe to a hundred email lists that send you messages every other day and bog down your inbox. Subscribing to too many email lists can easily render your inbox an insurmountable mountain of messages, drowning out emails that are actually important.
A good rule to follow is to unsubscribe from email lists when you have not opened a message from the recipient over the past month, as at that point it is safe to say that you are either uninterested in the message or it does not hold value for your organization any longer. Some email newsletters are monthly, but these shouldn't be clogging up your inbox. The really intrusive senders might send messages out every other day or so. Most senders will have an Unsubscribe link at the bottom of their emails, but do be careful when clicking on these, as you don't want to fall victim to a phishing attack.
Archive Messages When Possible
We all have those important email messages that we don't want, or simply can't get rid of. You could organize your inbox into folders and subfolders to hold onto these important messages, but this could lead you to "hoard" the emails out of fear that they might be useful at a later date. You can't know which messages will be important over the next several months or years, so we recommend that you remove that stress from the equation and utilize an archiving system.
An email archiving system, complete with data backup and maintenance, is the best way to limit the influence that these potentially unnecessary emails have on you. You can essentially search your archive and pull specific emails from the bunch when they are needed rather than sitting on folders upon folders of potentially unimportant messages. Most cloud-based platforms like Office 365's Outlook or Google Workspace's Gmail give you this capability.
Schedule Time Every Day
If you think that you simply have too many messages to sift through, the weight of the task can be daunting and seem like an impossible thing to accomplish. You can break it down into more manageable chunks by simply dedicating some time each morning to deleting or archiving messages. It doesn't have to be a lot of time, but if you can stay consistent with it, you might find that you get your email inbox under control faster than expected.
Implement Spam Protection Solutions
One huge way to clean up your inbox is to implement a spam blocking solution, thereby preventing threatening or time-wasting messages from ever hitting the inbox in the first place. This preventative solution is just one that NuTech Services can help your organization implement to save time and streamline operations. To learn more, reach out to us at 810.230.9455.