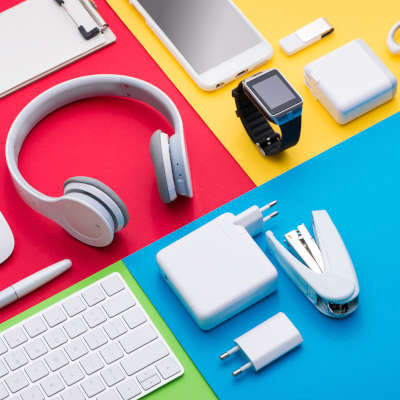 There is no denying that gifts are a major part of the typical festivities around this time of year, so it only seems that having some ideas as to what you'd like to receive to share with others is a helpful contribution. As our way of helping, we've decided to share a few tech-based suggestions that would find a welcome home in any home office or remote workspace.
Power
To start, let's go to perhaps the most basic need of any technology user: the energy required to keep their devices on in the first place. Let's not split hairs—the average home office setup might not have sufficient outlets available for all the devices that need to be powered.
If this applies to you, you may appreciate someone giving you a nice surge protector to help expand the number of available outlets you have while simultaneously protecting the devices you plug in.
In addition to this, there are assorted other power-related solutions available that you might consider adding to your wish list. For instance, you may be using two-factor authentication more often as you work remotely, making your mobile device something that needs to be kept on. A charging station or even a power bank may be a welcomed addition to your tools.
Comfort
Of course, productive work is impossible if you aren't at least somewhat comfortable. You might want to consider adding a few amenities to your list that help support this goal. This can range from requesting a supportive new desk chair, to a comfy seat cushion or footrest, or even a pair of blue-light filtering glasses.
Honestly, there's a lot of things that could be added to this list. There are tons of computer peripherals available that are specifically designed to make the user's experience more suited to their preferences. Really, it's about identifying what makes you the most uncomfortable throughout the workday and identifying the solution.
If you're a fan of sipping warm beverages throughout the workday, consider asking for a desktop cup warmer.
Personality
All work and no play make Jack a dull boy, so it may not be the best idea to have a totally austere workplace. One or two small tchotchkes shouldn't hurt your productivity unduly and can make for a great conversation starter if used in the office. Whether it's a classic Newton's cradle or some other perpetual motion device, something to fiddle with to help break up the workday can be valuable to have.
If you happen to have a stressful job, you could even ask for a miniature punching bag to attach to your desk. Fans of golf might ask for the pen set that doubles as a desktop putting green. Really, the possibilities here are endless.
Whatever you do choose to ask for, make sure you share your wish list in the comments to help inspire others.
Remember, while this may have been a sillier blog than we usually share, NuTech Services is always here to help you with your IT management and maintenance needs. Regardless of whether your team is working in-house or remotely, our managed services can give your business the benefits you want it to have. Learn more by giving us a call at 810.230.9455.