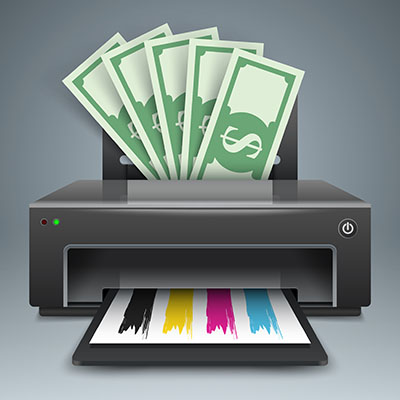 If your business is trying to limit costs, then printing should be one of the first things you look at. Paper documents have historically been important for businesses, but they take up a ton of space in the office and are incredibly difficult to regulate effectively. Let's go over how you can decrease the resources you spend on printing and maximize efficiency elsewhere in your paper practices.
Of course, printing costs much more than just paper, ink, and toner. You also spend money on filing cabinets and storage, and someone needs to take time to organize it and keep it organized. That's all without mentioning the upkeep and maintenance for all of your printers, too.
The way we see it, you can cut costs with printing by doing three things:
Upgrade Your Printers
If your printer network is outdated, it might benefit from some new hardware. For example, an old ink-jet printer could be replaced by a laser printer. Laser printers are faster and more efficient, and they will save you money over time since they are more reliable.
Manage Your Resources More Efficiently
Okay, maybe you are in a position where you can't cut out printing entirely, and that's okay, too. You can still better control your printing resources. By monitoring them, you can more effectively store what is needed and eliminate waste. If you change some settings on your printers, you might be surprised by how much you can save in this way. Furthermore, storing only what you need rather than going all-in on a surplus can save you money.
One way you can manage printing better is through the use of a printer management application that limits how much an individual can print. You wouldn't believe how many thousands of dollars are spent on printing when employees can simply be more observant about their printing practices. If you put this system in place, combined with other measures, you'll see savings for sure.
Go Paperless
If you lose productivity by dealing with countless paper documents and you are finding that your office is not well-equipped to handle them all, then perhaps a document management solution can help you go paperless. Essentially, it is a secure place to store and manage your documents in a digital environment, rendering your traditional filing cabinets obsolete. You get a searchable cloud-hosted database that gives you the ability to share and retrieve files on a whim.
NuTech Services can help your business move toward better printing practices and solutions. To learn more about what we can do for your business, reach out to us at 810.230.9455.