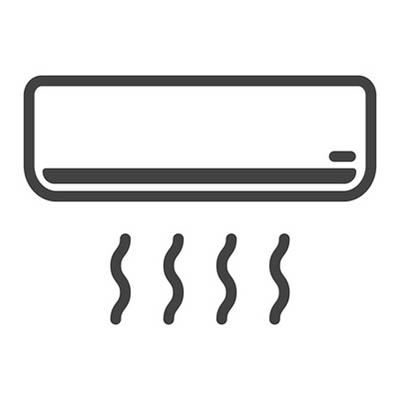 You don't need us to tell you that servers, workstations, and many other network components create a lot of heat from constant use. Servers in particular produce an incredible amount of heat, so much that they need to be kept in a climate-controlled room to ensure they don't overheat and cause hardware failure. How can you make sure that your business' servers are in an adequate environment to preserve your organization's future?
It all starts by examining the current environment in which you store your hardware. Are you storing your servers in a closet (or other small room) with only fans to cool them? Is there poor air circulation? What about humidity? All of these variables need to be addressed before too much damage is done to your server.
Prolonged exposure to heat can cause permanent damage to your server units, decreasing their value over time and lowering the quality of service you get from them. However, not just any air conditioning system will do to protect this critical hardware. The best kind of air conditioning for a server room includes a comprehensive approach to climate control. This includes sensors that can measure room humidity and temperature. Ideally, you want sensors that can be monitored remotely so that you can always keep an eye on the environment. This allows you to properly manage the environment your organization's critical hardware is in.
While you want to monitor humidity and make sure that it doesn't exceed a certain threshold, you should also be wary of the room becoming too dry. Storing active electronics in a dry room is certainly not an ideal situation, as this can create unwanted static electricity that can cause damage to devices.
Air flow is also extremely important, as you want to make sure that your servers are actually being hit by the cool air so that they can be adequately cooled down. For example, you don't want to have your air conditioning on at its highest setting in your server room because it might be wasteful in the long run, whereas air blowing directly on your server cabinets can accomplish largely the same goal with less investment into your energy costs. To this end, air conditioning units can be installed in the floor or ceiling, directly above or below the cabinets, so as to get the most out of your investment.
Of course, no amount of air conditioning can prepare you for the worst-case scenario–the inevitable failure of your business' server units and loss of its data. In cases like this, you should always be prepared for the worst. A comprehensive data backup system needs to be implemented in order to guarantee that the worst doesn't wipe your organization off the map entirely. To this end, NuTech Services can help. We'll identify how you can optimize your server infrastructure and data backup system so that an unexpected disaster doesn't prematurely end your business. To learn more, reach out to us at 810.230.9455.