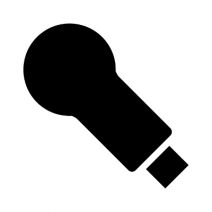 Google is known for coming up with fun new technologies that change the way society consumes entertainment and performs their day-to-day responsibilities. One of Google's best new gadgets is the Google Chromecast, which can change the way you view media and share content while both at home and in the office.
Google's Chromecast is a neat device that allows you to turn your television into a smart TV. Chromecast uses your WiFi network to stream content from the Internet to your TV. You can then use a mobile device, or any laptop or desktop that's connected to your WiFi, to control the Chromecast. A Chromecast can even be used in the office to add a sense of flair to any room with a TV, and to make collaboration easier for presentations and other media.
Without further ado, here are four great uses for your Chromecast device.
What a Chromecast Can Do
Stream music: If you're hosting a get-together at your home, the Chromecast lets you stream music directly to your TV. Apps like Spotify now work seamlessly with Google Chromecast, making it a great way to lighten up any situation. Plus, some smooth jazz or soothing music might be just enough to calm your staff or impress a prospective client who wanders into your office.
Stream video: Whether you want to stream a simple YouTube video, watch television shows through Hulu or Netflix, or watch a movie, you can do so with Chromecast. There are plenty of entertainment apps that are ready to use through Chromecast, so it's only a matter of finding one you want.
View pictures: If you want to liven up your TV when you're not using it to stream media or content, you can have it display backdrops in between sessions. The Chromecast pulls images from all sorts of online libraries, including NASA, 500x, and several others.
Mirror your device's browser: Whether you're using your Chromecast for entertainment or work purposes, you can mirror your device's screen to your TV. All you have to do is open your Chrome browser and use the Chromecast extension to cast the screen. This is particularly useful for sharing documents or presentations.
There are countless other uses for the Chromecast, but instead of spoiling everything about the device, we think it would be fun for you to find them out for yourself. With so much entertainment and content at your fingertips, you'll be able to spice up both your home life and your office.
Bonus tip: One of our favorite Chromecast apps is VideoStream, an extremely simple app that lets you drag video files to your Chrome browser and play them on your Chromecast-connected TV.
Do you have a Chromecast? What's your favorite use for it? Let us know in the comments, and subscribe to our blog for more great technology-related tips and tricks.