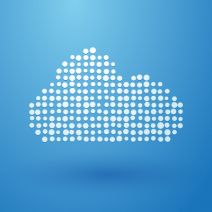 If your business has put off embracing cloud computing as a legitimate method for data distribution and application deployment, it might be time to reconsider why you haven't integrated a cloud solution yet. A recent study from software companies Exact and Pb7 Research shows that the cloud can provide your organization with a significant increase in both profits and net growth, proving once and for all that cloud business is better business.
Specifically, the study shows that the cloud can potentially double small business profits and help them achieve an additional 25 percent revenue growth compared to businesses that don't take advantage of any cloud solutions. This study, which was published on August 19th, contains findings that are based on 750 interviews with small businesses, all of which have less than 50 employees. 51 percent of all respondents claimed to use at least one form of cloud computing software, while nearly 30 percent of small businesses in the United States admitted to using three or more cloud applications in the workplace.
In other words, most businesses are adapting to the cloud and using it to improve the way they operate. When asked why they chose to implement cloud solutions, businesses gave these top five reasons:
Security: 32%
Lower IT costs: 26%
Low maintenance requirements, less physical infrastructure: 23%
Easy mobile access: 23%
More productivity and efficiency for end-users: 21%
Additionally, when asked to rate certain aspects of the cloud on a scale of 1 (low) through 5 (high), the average results were:
Easy to use: 4.0
Easier to find information: 4.0
Easier to share information: 3.9
Increased productivity: 3.9
Easier to add and remove users: 3.8
While the reasons why cloud users implement the cloud vary, this proves that there are a number of benefits that this type of computing infrastructure can provide. When considering integrating a cloud solution for your business, you need to ensure that your organization can handle this change in protocol. Changing the way you deploy and manage your data and vital technology systems requires the attention of a knowledgeable professional. Contact NuTech Services at 810.230.9455 to learn more.