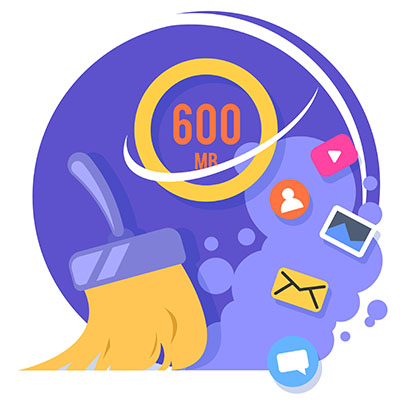 While you're using your device, it will store data in a temporary location called the cache. In order for your device to operate as well as it can, you might find yourself in need of a good ol' cache-clearing. You can do this on the device level and on the application level. Let's take a look at how you can do this for your Android device.
Clear the App Cache
If you have an application on your device that is giving you issues, you can clear the cache to try and resolve the issue. Start by opening your Settings app and selecting Apps. This process might look slightly different depending on your device's operating system and model, but it should be something close to this.
Pay attention to where it says Your Apps. You should see a hamburger menu here, which will display all of your device's applications. If you sort your apps by their size, you'll see which ones are taking up most of the space on your device. Select the app you want to clear the cache for to move on to the next step.
From the app's page, you'll see an option for Storage. At the bottom of the screen, select the Clear Cache option. The cache will automatically refill over time—after all, the data stored in the cache is supposed to improve performance and make your device run a bit better—so if you ever notice that it's getting a little too bogged down, it's a good idea to periodically clear the cache.
Clear the Browser Cache
Similarly, you will want to clear your browser cache every so often to delete any temporarily stored images and site files. Here is the process for how you can do it with your favorite web browser:
Chrome: Three Dot Menu > Settings > Privacy and Security > Clear Browsing Data
Firefox: Three Dot Menu > Settings > Delete Browsing Data
Edge: Three Dot Menu > Settings > Privacy and Security > Clear Browsing Data
The process is mostly the same for each of the mobile web browsers. All you have to do is select the kind of data you'd like to delete from the cache.
What other tips would you like to see us cover in the future? Be sure to let us know in the comments.