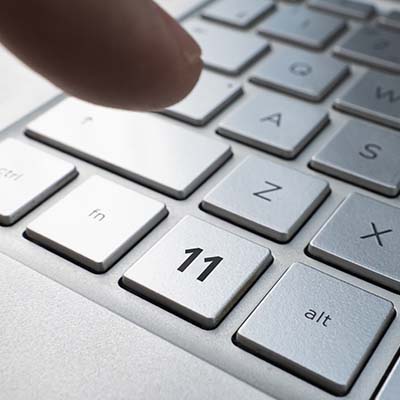 Has your business implemented the next iteration of the Windows operating system yet, Windows 11? If not, you're not alone; adoption has been progressing at a snail's pace, and according to industry professionals, it's not going to ramp up for quite some time. Still, recent surveys and polls indicate that Windows 11 adoption is far lower than expected, and there is even some discrepancy between reports.
For example, take a look at the number reported by AdDuplex, which represents an adoption rate of 8.9 percent. Compare this to the number reported by Lansweeper, 0.21 percent, and you'll see why we say things are slow-going. These types of discrepancies in data reporting are not uncommon, as it largely depends on the sample size and the type of users assessed, but it's safe to say that Windows 11 adoption will be a trickle rather than an open floodgate.
The main culprit for this lack of adoption seems to be the lack of urgency associated with the update, as well as the rather stringent upgrade requirements for Windows 11. It's also worth mentioning that Windows 11 is far from the comprehensive update that its predecessor, Windows 10, was.
When the time comes to bring Windows 11 to your office, you'll have to make sure that you meet the minimum system requirements. As a reminder, the requirements for Windows 11 include the following:
64-bit processors
4 GB of memory
64 GB of storage
UEFI Secure Boot
Trusted Platform Module (TPM) v2.0
We know that your business might not necessarily be ready to adopt Windows 11 at this very second, and for now, that is totally fine. However, please keep in mind that 2025 will sneak up on us. Before we know it, people will be talking about the Windows 10 end-of-support date and how it will impact the user base. When that time comes, we hope you will keep NuTech Services in mind for all your patch management needs.
Our trusted technicians can help you implement any of the hardware or software upgrades your business needs to stay safe and thrive while implementing a new operating system for your infrastructure. To learn more about what we can do for your business, reach out to us at 810.230.9455.