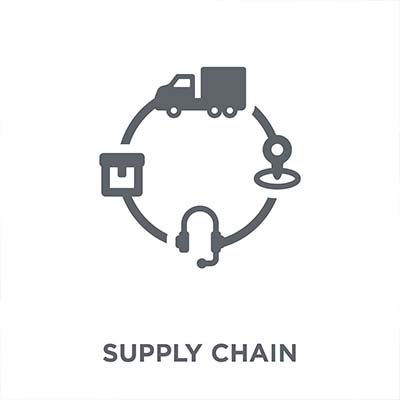 The pandemic forced businesses to reexamine the way that they operate, but even though the pandemic is, unfortunately, still ongoing, many have returned to conducting business as usual like they did before it began. One part of business that will not return to normal anytime soon is the supply chain, as these issues will likely persist into the future.
What is Your Supply Chain?
Your supply chain is the network of vendors your business works with to ensure access to products or services rendered. Your various vendors make up your supply chain. It doesn't just include products, either; it can include activities, people, information, and other resources that let you maintain operations.
A supply chain is incredibly important to the continued success of your business. For example, if your organization makes shoes, then you need access to the materials to make said shoes, like leather, rubber, and otherwise. Another example is the computers you use to provide goods or services to your customers. If there are shortages in the supply chain or if products are unavailable, then your supply chain will be disrupted, which also means a disruption to your operations and a negative impact on your bottom line.
Why is the Supply Chain Having Problems?
There are several reasons why the supply chain is experiencing problems, one of which is the pandemic. People were forced to move essential employees off-site, meaning they needed the technology to make this happen. The pandemic placed a significant strain on the materials required to work remotely, and the goods needed to move entire workforces remotely could not keep up with demand. This is why certain components are hard to come by, even all this time later.
Additionally, there is a labor shortage in the form of crucial workers who make the supply chain work. Countless people have quit their jobs over the past year, including warehouse workers and truck drivers, both of which are essential to the supply chain, creating bottlenecks—which hamper it. The people in these positions are being asked to do more, and they quite simply can't. These issues aren't getting better; if anything, they are getting worse.
What Can You Do?
Here are some things you can do to keep the supply chain from impacting your organization to the extent it might otherwise:
Inventory Control
There are two parts of having effective inventory control. First, you'll need to have an extensive list of your inventory so you know what you have on-hand at any given time. If you don't, you might find yourself falling behind. The other part of inventory management is mitigating risk by building a surplus. While it's not the ideal state of things, it's the way we have to get through the pandemic supply chain problems.
Be Flexible
If you source specific components or products from a manufacturer, they may not have access to the same goods and services they had in the past. They will do their best to get you what you need, but there might be a chance they cannot fulfill the order. Therefore, you should be open to sourcing your products or services from alternative suppliers if necessary. While it's great to have the established relationships with manufacturers, you also need to keep your needs in mind.
Use Technology
Technology can help make your supply chain problems less of an issue. Software can automate a fair amount of the inventory process, and the Internet of Things is also invaluable for letting you know which parts of your business might need to be addressed.
NuTech Services can't control the supply chain issues, but we can help you address these challenges with complete and total transparency. To learn more about what we can do for your business, reach out to us at 810.230.9455.