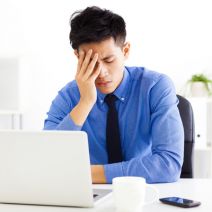 Modern businesses are reliant on certain parts of their infrastructure to keep operations functioning. For example, if your building's electricity were to go down, what would you do? What about if you lost Internet access? Would your business be able to keep your employees busy, or would the downtime experienced be enough to cause panic?
One might understand why a lack of power could lead to downtime, but an Internet connection? Many modern organizations run their infrastructure out of the cloud, which requires an Internet connection to access. If this is the case, productivity grinds to a halt, and you won't be able to access critical files or applications. The fact of the matter is that your business should be prepared to deal with worst-case scenarios like this, even if they're unlikely. You should have a plan for how to handle a loss of an Internet connection.
So, what exactly can you do if your business's office loses power or your Internet is down for a significant period of time? You only want to send your employees home for the day if they can't get any work done at all. If you anticipate that the power outage or downed Internet will only last for an hour or two, that's time that can be spent on other in-house tasks that you might put off from time to time.
Here are a few ideas that might help you get through the day without letting downtime kill your bottom line.
Hold Staff Meetings
If your staff meetings don't require the use of technology, what better time to hold them than when the Internet or electricity is on the fritz? This way, you can address important initiatives, team building, or problems within the office, without allowing your team to waste time. Think of it as a really convenient inconvenience!
Organize or Clean the Office
You know what they say; if you have time to lean, you have time to clean! If you've been looking for an opportunity to organize files or clean up a certain part of your office, there's no better time to do so than during downtime. If your team needs an excuse to stay in the office to make their rent, mortgage, car payment, etc, put them to work.
Perform Employee Evaluations
Similar to how you can hold staff meetings during an outage, you can also do employee evaluations. Take some time to critically evaluate your employees and let them know how they're doing. Ask them what's working for them, what can be improved upon, and why. By the time you've finished, you'll have a better idea of how your team is doing, and what you can do to make it better.
When All Else Fails, Send Your Employees Home
If the downtime just seems like too much to bear, there's always the option of having your employees go home for the day. However, this might not feel like an option, especially if you have important work that needs to be done. You need to ask yourself if letting them stick around is worth it or not. For some businesses, a workday without the Internet may be shot and calling it a day may make the most sense for your bottom line.
While making the best of downtime might be your only option, at NuTech Services, we consider downtime to be an emergency. If your network or a critical part of your IT infrastructure goes down, leaving your employees high and dry, our technicians go into emergency mode.
Want to learn how we can help your business prevent downtime? Give us a call at 810.230.9455 for an IT assessment and give us the opportunity to show you how to always be productive and profitable.