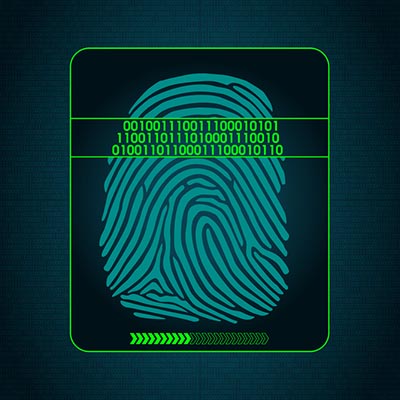 Biometrics are a common sight in futuristic or science-fiction settings, but they are increasingly entering the real world in practical ways. In fact, similar technologies are being implemented every day for businesses all over the world. Let's take a look at some of them, as well as what benefits they provide these organizations.
What Are Biometrics?
Biometrics are a method of authentication that uses some sort of physical attribute or qualifier rather than a password or a key code. Some examples include fingerprints, voice patterns, typing rhythms, and so much more. They are easier to use than your typical passwords or key codes, and even better, they can be used in conjunction with traditional security measures and practices.
Let's take a closer look at what some of these biometrics are, as well as the most practical way to implement them.
Biometric Types
There are two major categories for biometrics: physical identifiers and behavioral identifiers. Physical identifiers are by far the most common:
Signatures: Signatures are one of the unique ways you can identify an individual, and you've surely seen this biometric used at least once somewhere or another. Whether it's a transaction or an agreement, a signature can do much to guarantee someone's authenticity.
Fingerprints/Physiological Attributes: This particular biometric is often used to secure smartphones. Fingerprints can be used to determine the identity of the user, as well as various other physiological attributes, like palm scanning, retinal scanning, and facial recognition.
Voice: Voice-based authentication is common all over the place these days, whether it's a personal user issuing commands to a virtual assistant or a business using voice authentication to navigate automated answering systems.
DNA: The technology to implement DNA sequencing into authentication is still a ways off, but it's closer than you might think.
There are other behavioral identifiers that are used for biometric authentication. While these methods are still in development, here are a few examples of them:
Typing Patterns: People all write in different ways, and the same goes for typing. Therefore, this can be used to determine the authenticity of the user based on their keystrokes and the pressure applied to the keys.
Navigation and Engagement: In a similar fashion, the way that people navigate applications and systems can also determine identity. Mouse movements are quite showing, as well as how we hold devices.
Reliability (and Risks) of Biometrics
Biometrics are proving problematic to an extent, mostly because they can be inconsistent. Voices can vary depending on the user's health or age, and faces can change based on a clean-shaven (or bearded) face, a haircut, or a pair of glasses. There are ways to work around this system, and with biometric authentication, there is much that needs to be taken into account.
Security is a Major Concern
This kind of data needs to be heavily protected, as it not only exposes sensitive information, but personal information as well. These kinds of credentials are also not easily changed, as they are heavily based on physical traits. For these reasons, biometrics may take some time to be adopted as the norm.
What are your thoughts on biometrics? Let us know in the comments.