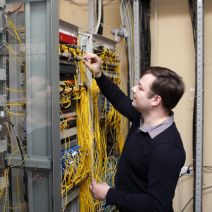 Is your network running a little sluggish? Computing hardware isn't perfect and requires a certain level of maintenance in order to keep everything running at capacity. Before you swap out your old server units for new ones, try these maintenance best practices.
Update Your Software
For whatever software you use, it's best practice to run the most up-to-date version. In addition to providing your system with improved security, software updates will often include fixes to bugs that tend to slow things down (not to mention put you at risk for viruses and other online threats). In order to take full advantage of the benefits of running updated software, it's best practice to have a solution in place that upgrades your system in a timely fashion. With NuTech Services's managed IT service, we remotely provide upgrades for your network so that you don't have to.
Corrective Maintenance
One of the most unpleasant hardware maintenance practices is fixing an issue that's disabled your system. Performing corrective maintenances like this can be expensive, and breakdowns always seem to happen at the worst possible time. Regardless, fixes like this must be done so your business can function. At NuTech Services, we've found that the best way to approach corrective maintenance is to prevent these breakdowns from happening in the first place. This is the route we take with our preventative IT care.
Server Virtualization
Depending on how old your problem-prone server unit is, and depending on if you possess another server unit that runs well and is underutilized, you can migrate the data off your older server unit to your newer, more powerful one. This is a solid practice that will save you money by not having to pay for maintenance on two separate units, as well as free up space. However, it's important to know what you're doing before making such a move because over-consolidation with excessive virtual machines on a physical server can lead to deteriorating performance and system instability.
A Hardware Refresh
For network equipment like server units, it's standard to get three to five years of use out of them before experiencing performance issues that cause you to seriously consider replacing them. Depending on the severity of your issues, you may be able to extend the life and improve the performance of your server with a hardware refresh. This includes installing additional CPUs or RAM, as well as upgrading the storage. It's a tough call choosing whether or not to go with a hardware refresh or to replace the unit altogether. For this reason, it's always a good idea to first check with your IT consultant.
Implementing these best practices will minimize performance issues and extend the life of your server units, and NuTech Services is here to assist you with all of these recommendations. Of course, technology isn't perfect and every piece of hardware will eventually fail. When it does, you'll have to purchase replacement hardware that meets the needs of your business and NuTech Services can assist you with this too.
For help with all of your company's technology-related needs, give us a call today at 810.230.9455.