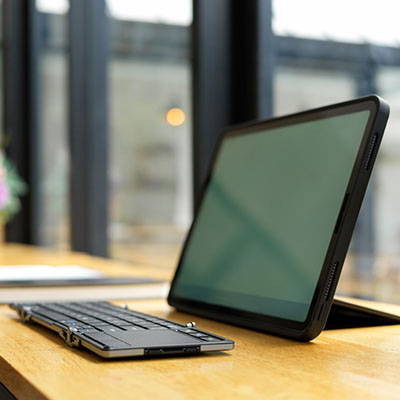 There were a few years there about a decade ago when everyone had to have the latest tablet and tech experts were predicting that most of the world's productivity would be done using touchscreen devices. On one hand, they weren't that far off. On the other hand, tablet sales fell off about as rapidly as they had spiked, leaving some question over the future of the form factor. Of course, tablets settled in as great personal computers, but their use in business has seemingly plateaued. Let's take a look at how businesses use tablets and answer if they are right for your business.
Modern Tablets
Before we get into whether or not you should be using tablets for your business, we'd like to talk about the major differences between tablets of 2014 and tablets today. The form factor is the same. It is like a clipboard with a touch screen that is run by a mobile OS. Like many other types of computing, the component specifications have significantly improved over the years, but the biggest draw to the implementation of tablets to a business is the application ecosystems that they bring to your business. There are quite literally millions of applications that can be used to support all types of business processes.
As far as specifications go, any tablet used for business should have at least four gigabytes of RAM and 64 gigabytes of storage. The Apple iPad, which is widely renowned as the best tablet you can get for business, features the Apple M1 processor, while the best processor found on an Android-run tablet is the Qualcomm Snapdragon 888. Since these are touchscreen devices, choosing one with a 10-inch screen or larger is ideal, but there are seven and eight-inch tablets that are powerful enough to do most things you would need them to.
Using Tablets for Business
In a recent poll, two-fifths of respondents say that they use some type of tablet in the course of their job. Interestingly enough, a lot of businesses that utilize tablets aren't actually used in the two largest markets for tablets: The U.S. and China. Many businesses in Europe, Australia, and South America actually use tablets at a higher rate than in those places. They are used mainly for the following reasons:
Taking notes
Managing social media
Creating task lists
Point-of-sale
Scheduling
If you are thinking that these are the same things that many people in the U.S. use smartphones for, you aren't mistaken. Tablets present businesses with a cost-effective solution to their mobility needs, even inside the office itself. One of the most innovative ways that businesses normally use tablets is as an easy-to-use point-of-sale device. Today, there are SaaS-fueled POS systems that are hosted in the cloud and run through mobile devices. In fact, with the robust application ecosystem that Apple and Android provide, many tablets can do any business-related task you need them to insofar as you get the more higher-end devices.
iOS vs. Android vs. Windows
As we mentioned earlier, the Apple iPad has long been the best tablet on the market as far as consumers are concerned. Apple has committed to the tablet as a personal productivity tool. As in the smartphone space, Samsung is Android's top tablet developer. The Microsoft Surface tablet, which has been on the market for 10 years, presents a great option for businesses that are committed to utilizing Microsoft-related ecosystems, even though they come in at a higher price tag and are often looked on as more of a touchscreen PC than simply a tablet. Either way, any of these operating systems integrate well with other computing platforms and present businesses with the opportunity to enhance their operational mobility.
App Innovation and the Tablet's Future
Today, tablets are only as good as the applications they run; and there are a lot of them. There are options for any type of activity that your business can undertake. Some include:
Managing money (Quickbooks, Wave)
Inventory management (Sortly, Delivrd)
Human resources (Namely, Bambee)
Point-of-sale (Square, PayPal Here)
Time tracking (Gusto, HotSchedules)
Communication & collaboration (Zoom, Slack, Microsoft Teams)
Customer relationship management (Spendgo, Salesforce, Nimble)
Project management (Trello, Basecamp)
Document management (eFileCabinet, Hightail)
What is Right for You?
If your business is looking to get a cost-effective solution for your mobile computing needs, looking in the tablet space may just be the right move for your business. Give NuTech Services a call today at 810.230.9455 to get the expert consultation and innovative technology your business needs.