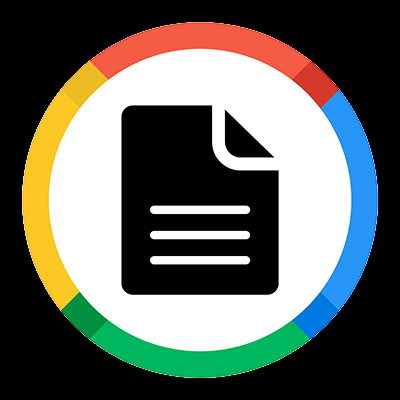 Productivity suites are a dime a dozen, with Microsoft Office being perhaps the most well-known. However, there are plenty of other options out there, such as Google Workspace. How does Google Workspace hold up as a solution for productivity compared to its competition? Let's take a look!
First, we should mention that Google Drive and Google Workspace provide a similar, if slimmed down, experience on just about any compatible device. There are also collaboration features built right into the software and anytime-anywhere access, and it's all thanks to the cloud-based nature of these tools.
Google Docs
There can be no denying that Microsoft Word is the more functional solution of the two word processors, but for most businesses, Google Docs' user-friendly interface will more than suffice. Docs features all of the tools that you might need for your word processing needs, and Google is adding new functionality all the time. Longtime users of Word might still prefer to use it over its competition, though.
Google Sheets
In much the same way Docs is a simplified version of Word, you'll find that Google Sheets is similar to Microsoft Excel in a lot of ways. It retains much of the functionality, so you can expect a similar experience, but it's more minimalistic compared to Excel. Anyone who has tried to use Excel for more than simple spreadsheet functionality might appreciate the simplicity that Sheets provides.
Google Slides
Google Slides continues the trend of offering similar experiences and functionality to Microsoft PowerPoint, but in the Google Workspace suite. While it doesn't boast as dynamic features as its Office counterpart, its simplicity and ease-of-use should serve the same purpose.
Google Forms
You can use Google Forms to create surveys. You can use these forms to build surveys, create quizzes to test the knowledge of participants, or to collect information from users. It's one of the more interesting features of Google Workspace.
Other Notable Google Applications
There are various other Google applications you might be able to leverage to your advantage, including Google Drawings (diagram creation software), Google My Maps (map and location tracking software), Google Sites (a wiki and web-page creation tool), Google Apps Script (scripting platform to create other add-ons for your Google Apps), and Google Jamboard (an interactive whiteboard platform).
Google Workspace might not be for everyone, but that's why you have us to contact if you want to know more about it. We can help you make an educated decision about your business' productivity suite. To learn more, reach out to us at 810.230.9455.