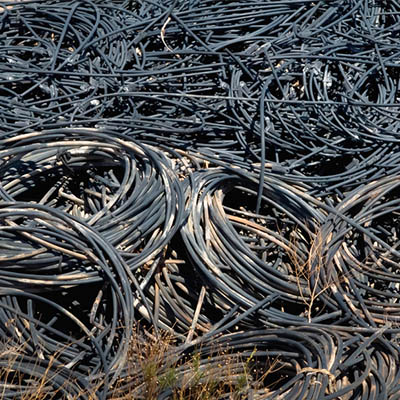 Are you drowning in old computer cables? Do they sit in a drawer and take up space? Chances are that you'll have quite a lot of old cables that are sitting around collecting dust due to your organization picking up new devices that come with even more new cables. Sure, you might think you still need that old 25-pin serial cable for that legacy scanner from 1997, but it's probably time to let go. While there is some merit to keeping old cables around just in case, the proper alternative to throwing out unneeded cables is to recycle them.
Take an Inventory
First, you need to see what cables you have on-hand. This includes cables, wires, and adapters. Basically, keep an eye out for anything that might be of value to your organization. This doesn't mean to hoard them–rather, keep an eye out for anything that could potentially be useful, but not obsolete in the near future. For example, smartphone chargers with USB Type-A and Type-C cables might come in handy for travel or to keep as spares for staff.
Recycle (Don't Discard) Your Unwanted Cables
If there are any cables remaining, you should always, always recycle them rather than throwing them in the trash. Modern computer and video cables are typically made out of valuable materials, such as copper and gold. On their own, they might not be worth much, but if everyone recycled their old cables instead of throwing them out in the trash, it would have a pretty large impact.
You can reach out to NuTech Services for assistance with getting rid of your unneeded and unwanted hardware. This goes for more than just cables–if you have anything at all that you simply don't need, we'll take it off your hands. If you just want a place to drop off your unneeded hardware, just call 1-800-RECYCLING or visit the National Center for Electronics Recycling website.
For help with recycling your unused technology, give us a call at 810.230.9455.