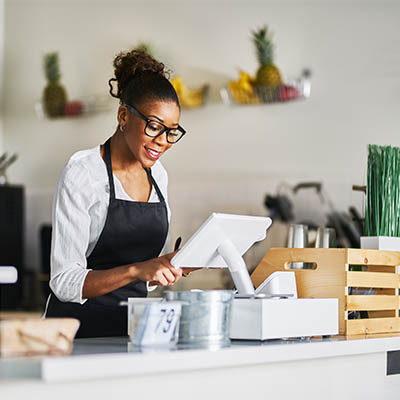 For many small businesses, the Point of Sale (POS) system is the main workstation. As a result, many of your business' core processes run through it. If you aren't taking advantage of some of the built-in features that most POS systems can provide, you may be leaving dollars on the table.
The point of sale system is not just a cash register. It is a wholly integrated digital hub for the management of your business, but many businesses don't take advantage of some of the most advanced options. Let's take a look at the best practices of utilizing your business' POS system.
#1 – Choose the Right Terminal Structure
The POS system needs terminals in order to function and there are several different iterations that the front end of your POS system can look like. Since the main benefit of installing a POS system is to build efficiency, choosing the right one for your business has to be a major consideration. Let's take a look at the four ways POS systems can be deployed.
In-store – On-premise POS systems are the norm. This means that you host your server at the place of business and run your POS system through that local hardware. In-store POS systems are great for smaller businesses that don't need a lot of back-end computing hardware to do what needs to be done. Many retail and hospitality businesses use this method. They come with some increased costs (mainly because of the need for hardware and consistent maintenance), but are known to be easy to use and secure.
Cloud-hosted – Pushing your POS system to the cloud has major advantages as your capital costs will be significantly reduced. You also don't have to worry about maintaining your solution as the provider will likely take on that role. Most cloud-hosted POS systems are affordable and available, just as long as you have an Internet connection. The problem, just as with any other cloud computing platform, is that security can be a point of contention and if your Internet goes down, so does your ability to use your POS system.
Mobile – Mobile POS systems (mPOS) is a POS system that is used through a tablet or phone. This method can save your business a lot of money and it allows you to take your POS system on the go if need be. The main drawback is that the hardware associated with this type of system will likely need to be repaired and replaced as smartphones and tablets can be damaged pretty easily.
Kiosks – Finally, one of the POS systems that is gaining the most popularity is the self-service kiosk. This cuts down on the need for customer interaction, so if your business is looking to cut costs, having kiosks set up that allows customers to check themselves out is a good way to do that. Unfortunately, many customers just aren't technologically savvy enough to make use of these systems and you run the risk of complaints from customers having difficulties with the system.
To choose the best type of POS system for your business, you will need to understand your customers. For retail businesses, you will want a barcode scanner integrated into the system as well as a reliable printer. For a restaurant, you will want a scheduling program that can keep guests from being backed up or having to be turned away. For a salon, you will want one that integrates with online booking systems and membership points programs. Understanding your business and your customers can go a long way toward getting the POS systems that can really make your business more efficient.
#2 – Understand POS features
There are admittedly a lot of different POS systems to choose from, but most of them will come with more than just the hardware and transactional software that you directly interact with. Other features your POS system might have include:
Inventory control
Payment processing
Return pricing
Labor management
Integrated Enterprise Resource Planning (ERP) capabilities including supply chain management
Reports and analysis
These features can make up a lot of the gained efficiency your business would see by using the POS system. POS systems can keep inventory pretty simple, a major benefit for any type of business, but with the integrated ERP capabilities, users can now control their entire supply chain from their POS system. Of all of the features, this one will be most useful to build added efficiency.
For example, say you run a restaurant and want to utilize this feature of your POS. With a label maker, you can manage your inventory by slapping a barcode on every product that you take in. Instead of having staff spend hours trying to come up with a list of produce, meat, etc., you can simply look at your inventory on your POS system to easily make orders when you need them. You can set up alerts to ensure that you have everything in stock when you need it, a must for most businesses.
POS systems can handle any time management problem your business can have: Scheduling, reservations, and employee time can be tracked simply through a POS system. With cloud-hosted systems, scheduling and other employee information can be shared online to ensure that your business has its shift staffed and covered competently.
By using all the features of the POS system, your whole business is tracked inside the system. This gives users the ability to customize reports that will allow them to analyze operational information and make adjustments as needed.
The POS system can be one of the most frustrating tools, or it can be a complete benefit for your business. Choosing the right tools will help make it work. At NuTech Services, our knowledgeable consultants can help you choose the right tools for your situation, deploy those tools, and support them as they support your business. Give us a call today at 810.230.9455 to learn more.