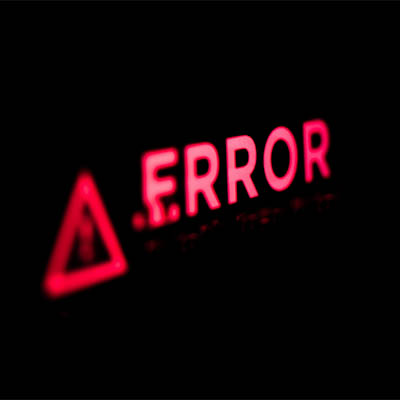 Technology is often a source of struggle for small businesses, usually for one of two reasons. Either the strong IT leadership needed isn't there, or there aren't enough resources to support the level of IT management and maintenance that businesses need. Of course, there are other mistakes that can easily be made when it comes to a business' technology management.
Let's go over four of these mistakes.
Failing to Focus on Your Overall Goals
You don't have to tell us that "the next big thing" in technology is always an intriguing idea. The real problem is "the next big thing" isn't always "the thing you need." However, adding new pieces of technology without a cohesive strategy often results in an overcomplicated network. This then can start a cascade of potential problems, ranging from hardware failure to full-blown security breach. What's worse is that your business may not be ready to handle the new technology.
No, it is far better to first identify how a technology can help you toward your organization's goals, and only then implement it.
Not Planning for Long-Term Success
It is critically important that you look to the future of your business and make plans to ensure its growth. This means that you need to not only choose solutions that fulfill your needs now, but that could scale to meet whatever those needs might look like in the future. Relatedly, your longevity also relies on how well you're prepared to handle a crisis. Having business continuity preparations—data backup and disaster recovery, specifically—will help ensure that you can recover quickly, should you ever need to do so.
Falling Short in Security
Have you ever thought that, since you run a small or medium-sized business, cybercriminals simply wouldn't waste the time to attack you when there are much larger, potentially more lucrative businesses to target? While some cybercriminals may prefer to target the big guys, others are more than happy to try and take the sensitive data that you've collected and generated over time. It's guaranteed that you also have something that a hacker will want, whether that's sensitive data, access credentials, or financial information. Unless you're willing to risk your entire business on the incredibly unlikely chance that you'll never be targeted (disclaimer: don't), you need to properly invest in your business' security.
Waiting Until Something Goes Wrong to Act
Proactivity is a good practice in many disciplines, but when it comes to proper IT maintenance, it's now practically essential. While many businesses still rely on the traditional break-fix approach of yesteryear, this approach is no longer practical, or for that matter, practicable. Adding up the costs of the hardware that would need replacing and the downtime incurred, the price of this approach adds up faster than you might imagine. Proactive maintenance helps avoid these additional costs.
Of course, chances are that you wouldn't call yourself a technology expert. That's our job, which we do by providing businesses with the technology they need and the support to keep it running. That way, you and your team can focus more on what you do.
Find out more about what we have to offer by calling us at 810.230.9455 today.