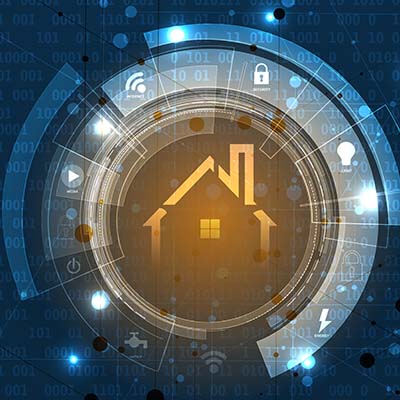 The Internet of Things is growing rapidly and can be of benefit to your organization if it is deployed correctly. It offers a massive opportunity to automate certain parts of your business, saving money, and ensuring that human error is taken out of the equation. A majority of businesses have not fully taken advantage of the time and money savings a well-positioned IoT device can provide. Let's take a look at three of the most useful IoT devices that a small business can implement.
Smart Locks
For small businesses, physical security is a major consideration. Today, there are smart lock mechanisms that increase convenience and security, by giving managers more control and peace of mind over the locks on their organization's doors. Unlike traditional locks, a smart lock features a computing mechanism inside a deadbolt lock that can be locked and unlocked remotely. The key to the smart lock is that it has administrative tools built in that give administrators the ability to create and revoke digital keys that provide a level of access control that can be added and eliminated in seconds. Additionally, smart locks provide comprehensive logs as to when people opened a lock with their digital key that is assigned to a user's device, giving administrators control and oversight over every door in your building.
Smart Lighting and HVAC Controls
Another digital tool that can help save plenty of money are smart lights and thermostats. The smart lighting not only provides additional convenience, as it can be set when to turn on/off lights automatically. Administrators can ensure all lighting is handled remotely as well so they don't have to physically be at a location to ensure that the lights are on or off.
The smart thermostat operates on the same general principle, but with the cost of heating fuel and electricity, it can literally pay for itself in a matter of months. Admin features allow for temperature control around the clock, so that a company can save plenty of money on heating and cooling bills by setting temperatures for different parts of the building at different times. With smart thermostats, you'll never have to worry about that employee that cranks the heat and leaves it on for days.
Smart Cameras
These days, every business should have some type of surveillance system. Not only is it a theft deterrent, but it can also help lower insurance premiums. Unfortunately, many businesses don't have sophisticated enough cameras to help authorities if a theft were to occur. With smart cameras, a business can get the crystal clear, high-resolution cameras they need, and it won't cost thousands of dollars to implement. Most of today's smart camera systems come with enough cloud storage to upload the high-definition footage, making reviewing this footage less problematic.
Overall, the Internet of Things is both a benefit and a problem that every organization has to confront, but by implementing smart tools that are secure and reliable, your organization can save money, be more secure, and save a lot of time.
What do you think about smart devices? Do you think they are secure enough to use in your business? Leave your thoughts in the comments section below and check back soon for more great technology content.